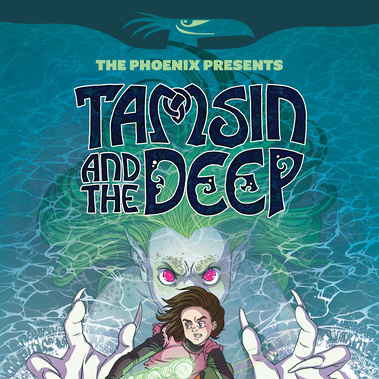 Tamsin and the Deep
By Neill Cameron & Kate Brown
Shortlisted for the British Comics Awards Young People's Comic Award 2016!
Tamsin knew that she shouldn't have gone into the water. After wiping out on her board, she is dragged down, into the deep...Into a long-forgotten world of ancient magic. Mermaid magic, dark and unforgiving.
Her family is in grave danger - and only she has the power to save them.
Tamsin and the Deep is available from all good bookshops, including:
The Phoenix | Amazon | Page 45 |
"A family comic set in coastal Cornwall which is funny, thrilling and at times terrifying" - Page 45
"Imagine a comic for children. Imagine it's about a girl braving horrors and humiliation. Imagine she saves her brother from a family curse, and imagine the mermaid in the story is the the kind that doesn't let you go home. Sounds good, right? It's called Tamsin and the Deep." - Women Write About Comics
"A compelling story which will manage to keep you completely engrossed" - Book Lover Jo
"Brilliantly vivid and super cool; an extravaganza of images and narrative that will explode in your imagination with every page that is turned" - Mr Ripleys Enchanted Books
All Tamsin artwork (c) 2016 by Kate Brown