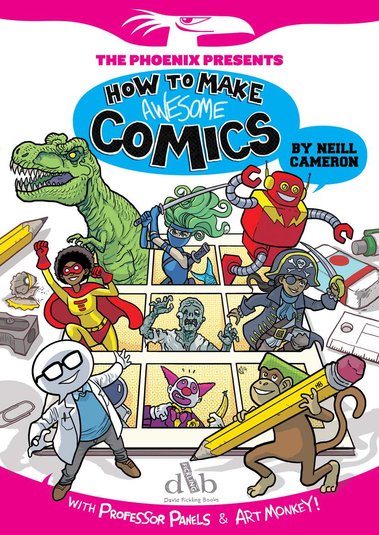 HOW TO MAKE AWESOME COMICS
Learn how to have AWESOME ideas, every time! Learn how to turn your ideas into AMAZING STORIES! And make your stories come alive with INCREDIBLE ARTWORK!
A book on all aspects of writing and drawing comics, for young readers! Published as part of the Phoenix Presents series from David Fickling Books.

Available to purchase from: Amazon | Hive | Page 45

...and indeed all good bookshops!
Includes such important topics as...

Activity Sheets
Have a go at some of the fun challenges from How To Make Awesome Comics, with these free downloadable Activity Sheets!
Comics Challenges
More fun comics-making activities for you to try! Find lots more over on the Comics Club blog!
Blank Comics Pages
Have a go at creating your own comics with these blank page templates- just print them off and draw in them!